Gong
Gong
Gong was originated in minorities, has been widely used through dynasties. It was called "jin", was used in the army when troops were to be treated, so there was a saying: strike "jin" to call back the troops. In Yuan Dynasty when 杂剧(consorted play) appeared, gang was used as one of the major accompanying instruments. It also played a key role in the accompanyment of Kunqu Opera during Ming and Qing Periods.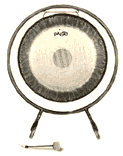 Gongs are normally divided into four kinds: big, small, palm and chime gongs.The diameter of big ones is usually one Chinese "Chi" , which is 33.33 cm.
The dismeter of small ones is six and a half Chinese inches. There is a flat square in the center. It is often used for decorative purposes.
A palm gong is held in the left hand, the right hand usually strikes it with a board. It is quite commonly used in Peking Opera.Chime gongs were used in the Yuan Dynasty at court banquets. There was no set number of gongs. A set of 10 was common, there were also 13 or 14 a set and even 24 a set.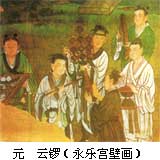 The picture above is part of a mural at Yongle Palace which shows how chime gongs were played in the Yuan Dynasty.